Rainy Monday morning, but that is to end and the sun is to come out for the afternoon. So, take the morning to prepare your business for the reopening of Buncombe County. It will happen (hopefully sooner rather than later)!
PPP Data – So, as you know the PPP reached the limit for the amount provided by law and, as a result, stopped originating loans. The SBA has some interesting data on the loans that were originated. 74.03% of the total number of loans were for 150k or less. In NC, there were 39,520 approved loans for a total amount of $8,005,752,270.
A Free Man – Retired Navy Master Chief Matthew Rife stands his ground at Emerald Isle, NC.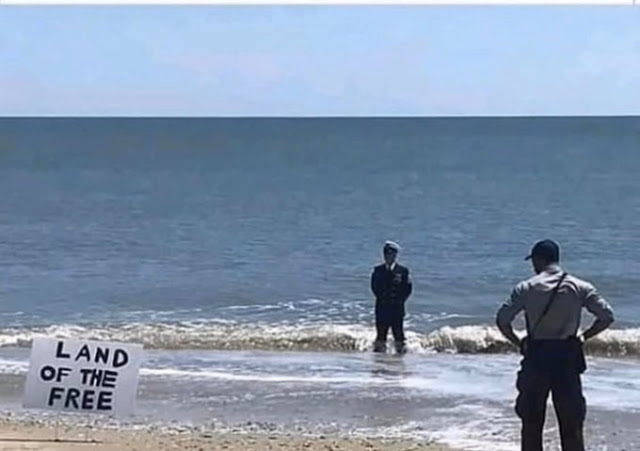 PPP – Local View – WLOS has a report of local restaurateur Katie Button and her views on PPP and its ability to help restaurant owners. I think her opinions are applicable to all industries and small businesses. You know that the Buncombe County Tourism Development Authority is sitting on millions of dollars that could be used to help those local businesses so that they are able to reopen and continue to attract tourists when our doors are opened. Just saying.
Gentlemen Start Your Engines – Some State Senators have asked the Governor to allow Charlotte Motor Speedway to run the NASCAR race over Memorial Day weekend without fans attending. A interesting side note is the fact that a lot of the drivers have been racing electronically online with thousands of fans watching. E-sports in general may have been boosted enough during this pandemic to really blossom after this all subsides.
The Millennial Moment – Millennial Jon Decker argues that Millennials must lead the charge in the reopening of the Country.
ReOpen NC – The ReOpen NC organization has retained lawyers and sent the Governor a letter, and intend to protest every Tuesday at the Legislative Building in downtown Raleigh.
PPP Returns – Shake Shack is returning the $10 million PPP loan that it received April 10 from JP Morgan. No word yet on whether Harvard University, which had the world's largest endowment valued at $40.9 Billion, will return the $8.655 million in Federal aid that it received through the CARES Act.
Boost With Facebook – Facebook's Small Business Grant Program will begin accepting applications this week. See if you are eligible.
Boost With Facebook Update – So, I just discovered that the grants are only offered in select areas. You can see the areas listed at the link above. The closest area to Buncombe County is Forest City, NC in Rutherford County.
PPP Lawsuit – Bloomberg is reporting that lawsuits have been filed against many banks alleging that, rather than lending on a first come first served basis, they preferred those businesses seeking large PPP loans and thereby generate larger fees. Congress needs to get it together and allocate more money.