Chilly Spring morning, but the sun is out and the day will warm. As the lockdown continues, it appears that State, County and Local Officials appear to be inching towards opening up Society.
PPP Update – It is difficult to determine exactly how many billions have been distributed, but here is an article providing a little insight as to loan approvals and amounts.
ReOpen NC – Gov. Cooper referred to 3 factors that need to be analyzed to determine when and how to reopen NC for business.
Unemployment – 5.245 million Americans filed for unemployment benefits for the first time last week. This brings the total initial claims over the last 4 weeks to 22.025 million Americans.
SBA EIDL Process – If you are still waiting to hear from the SBA regarding your EIDL, check out this article explaining the SBA portal and how the process works after the initial application.
W.H.O. Are You? – President Trump is placing a hold on all funding to the WHO while its mismanagement of the coronavirus pandemic is investigated. Is this investigation at this time prudent or reckless? Headline courtesy of the great rock band, The WHO.
PPP Update – PPP is now on hold as the $349 Billion has now all been allocated as explained by the SBA: "[t]he SBA is currently unable to accept new applications for the Paycheck Protection Program based on available appropriations funding." It is now up to Congress to decide if they wish to allocate more to the program. There was a push for another $250 Billion to be added to the program, but it was rejected by Senate Democrats.
ReOpen USA – President Trump tweeted this afternoon announcing: "Major News Conference tonight, the White House at 6:00 P.M. (Eastern), to explain Guidelines for OPENING UP AMERICA AGAIN!"
ReOpen Midwest – Illinois, Minnesota, Michigan, Wisconsin, Indiana, Kentucky and Ohio announced this afternoon that they were forming an alliance to work together to reopen their regional economy.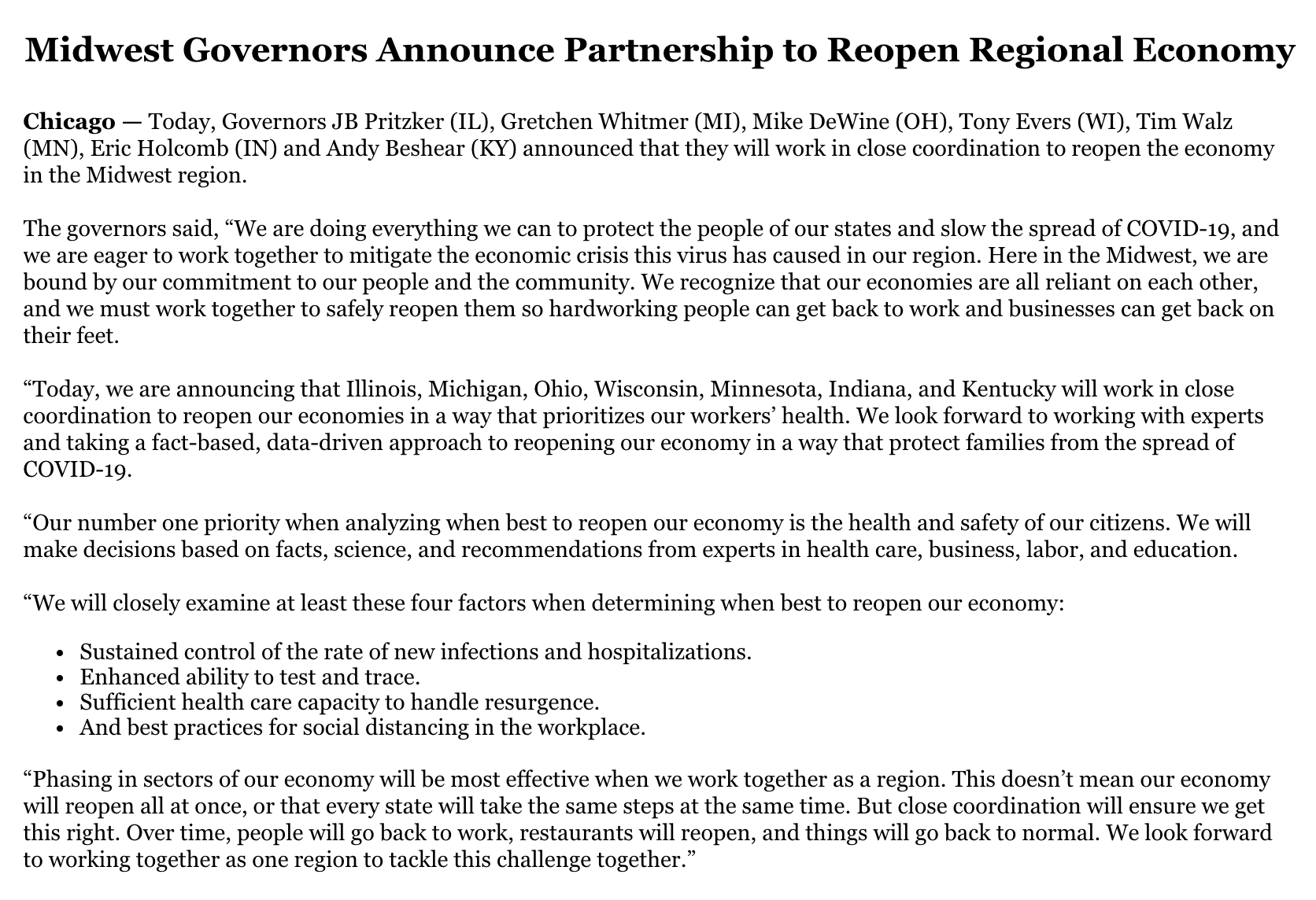 Reopening America – Here are the guidelines for reopening the Country discussed at tonight's press conference.